Professional Roof Washing in Asheville, NC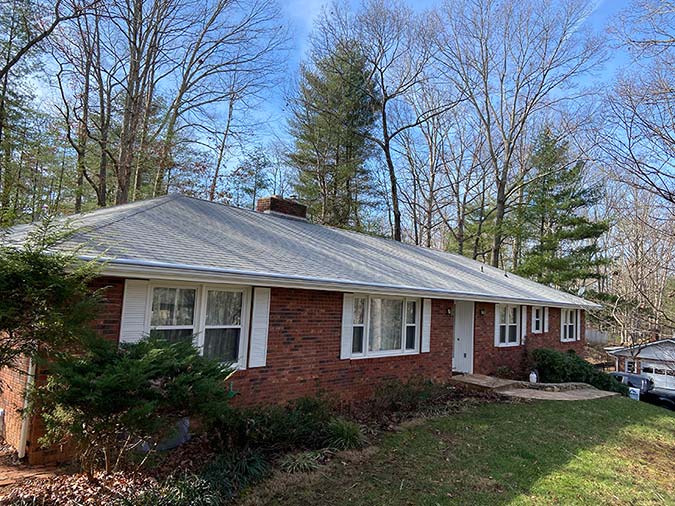 Do you ever pull in your driveway and look up at your home's roof and wonder why there's some sort of black streaking getting worse over time? Or maybe where that big Red Oak tree hangs over your house, some big moss patches are starting to take over?
These concerns aren't unwarranted, moss can lead to severe damage to your roof, and that black streaking doesn't help either. For more information about how these things are harmful, check out this page for a thorough explanation. Today we will discuss how the Pro's at Triple Wide handle these cleanup jobs.
The first thing is, those black streaks are a type of algae called Gloeocapsa Magma. It is very common and very unsightly. It can take over a roof quickly, especially on the north-facing side of your home. The moss and lichen also like the shady areas of the north-facing sides and can be much more disruptive.
When we get a call to do a roof wash, we first assess the severity of the growth. With black algae streaks, we are able to do a somewhat straightforward cleaning with a couple of trained professionals in just a morning or afternoon. Moss growth can take a bit longer to see the results you want; it is a bit more of a waiting game.
Initially, we will try to remove any loose moss and debris carefully and without putting any high pressure or scraping anything on the roof. This is important so that we don't remove any of the granules on your shingles. These granules are essential to your roof's functionality and longevity, besides the fact that putting high pressure on there can void the warranty of the roof.
Once any loose debris and growth are removed, we begin the roof wash by spraying a cleaning solution consisting of Sodium Hypochlorite or chlorine bleach. This bleach solution is mixed with thickening agents and soaps to help it stick on the roof for longer, allowing the bleach solution to work for a more extended period. While this is going on, we have one or two trained technicians on the ground spraying fresh water to dilute any overspray of the bleach solution.
This process is possible for a homeowner to do on their own with a pump-up chemical sprayer; however, we don't recommend it as you would need to walk the entirety of the roof to complete this project. Our commercial equipment allows us to work from the ground and ladders mostly, providing a much safer alternative to walking steep roofs.
The trained pressure washing professionals at Triple Wide Pressure Washing do Roof Washing in Asheville and the surrounding areas every day, and we have gotten it down to a science. So please, save yourself the hassle of a fall from a ladder or roof, and call Triple Wide today for your roof washing needs.