Pressure Washing Stucco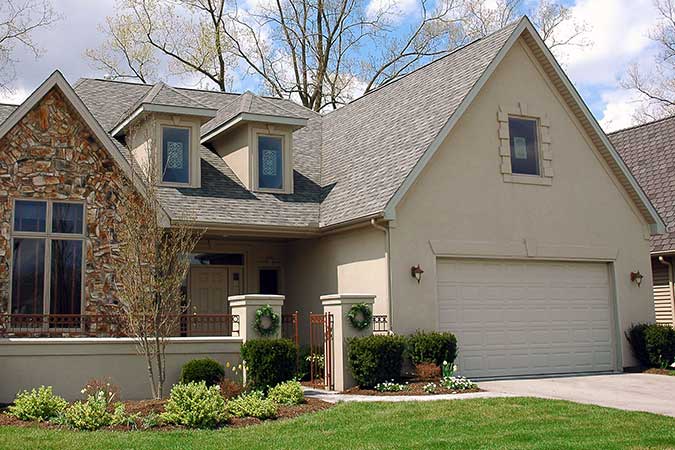 The Two Kinds of Stucco
When contemplating pressure washing your home's stucco siding, it's essential to understand the two main kinds of stucco and their differences.
Traditional Stucco - Traditional stucco is a concrete mixture that is sprayed onto wire mesh and essentially surrounds your entire home in a hard rock layer.
Exterior Insulation and Finish Systems (EIFS)- EIFS looks very similar to traditional stucco, but that's basically where the similarities end. EIFS is a Styrofoam based acrylic polymer that is sprayed onto your home's exterior. It is much lighter and softer than traditional stucco and provides an insulation layer to your home also. This type of stucco is commonly found in new construction around Asheville.
How to Clean Stucco
Trying to clean your stucco home with high pressure is asking for trouble. Cleaning EIFS with high pressure can cause even more problems. EIFS has a barrier coat that is not breathable, so if moisture gets behind it, that moisture cannot escape leading to water damage and rot.
Stucco is a beautiful and practical siding for your home, but the same properties that make it practical are also why it can get so dirty. The tiny peaks and valleys that form on the surface from the spray-on application can hold onto dirt and grime very well.
Soft Washing is the only way to clean stucco properly. The pros at Triple Wide Pressure Washing use a combination of safe but strong cleaning solutions and low pressure to safely and adequately clean stucco without the risk of damage due to high pressure.
Our employees are thoroughly trained in damage prevention, landscape harm prevention, and chemical safety. We are also backed by a Two Million dollar insurance policy for your peace of mind.
So if you are tired of looking at your dirty stucco siding, call the Pro's at Triple Wide Pressure Washing for your free quote today!