Why It's Important to Get Regular Deck Cleaning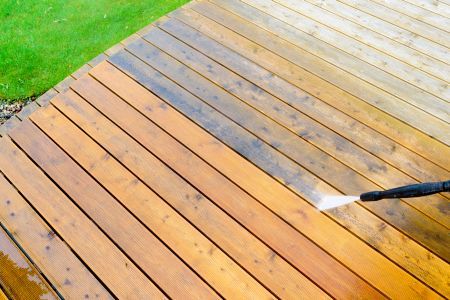 Routine deck cleaning keeps your Asheville home's deck looking its best. Of course, aesthetics isn't the only benefit you'll enjoy with this service. Indeed, you'll find plenty of benefits to enjoy with deck cleaning from our pressure washing team. Here are just three of the more obvious benefits you'll enjoy:
Curb Appeal
Whether you want to sell your home or simply have more pride in your home, curb appeal will prove to be an essential quality to maintain. Since your deck is such a prominent feature of your home, keeping it looking great with routine deck cleaning will help to maintain your home's curb appeal.
Safety
Regular deck cleaning benefits more than your home itself; it also benefits you by helping to maintain your health. It does so by thoroughly eliminating growths that develop and render your deck an unhealthy and unsafe place to be:
Algae
Mold
Slippery grime
Property Value
If there's any possibility that you'll be selling your home at some point down the road, maintaining your property value is essential. Since regular deck cleaning keeps your deck in the best and best-looking condition, this service will help to maintain your home's property value for a great low cost.