Deck and Fence Staining with Composite Rebuild in Asheville, NC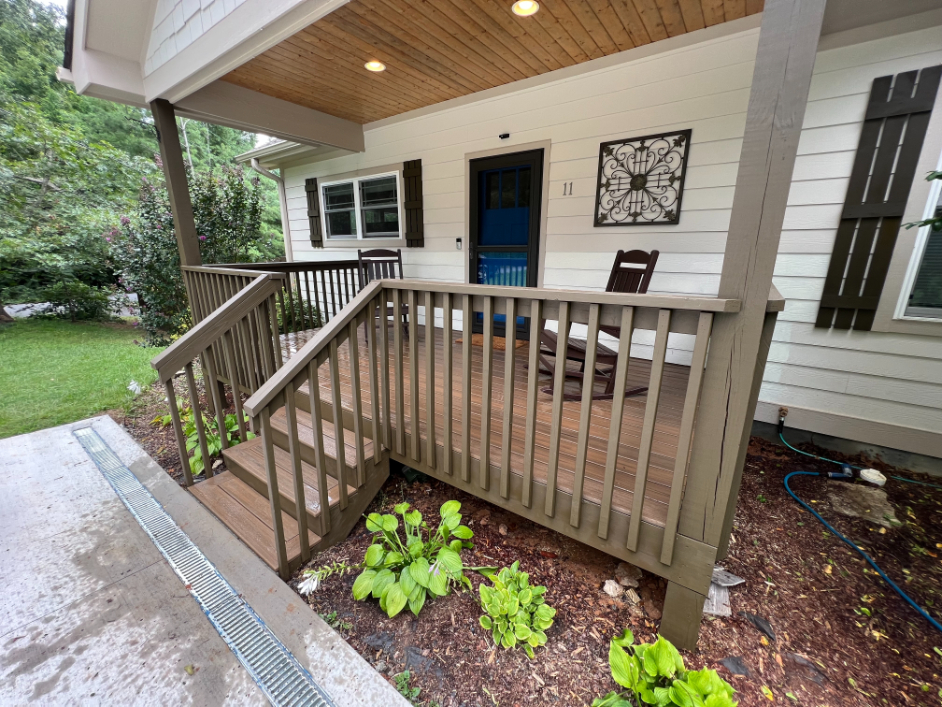 This Deck and Fence Restoration project was a complete overhaul. On the front porch, we removed all of the deck boards due to failing stain and the homeowner not wanting continued maintenance of their wood installations. W replaced the boards with Trex composite in a picture frame layout with added joist blocking and stair stringer blocking for a beautifully framed stair set. We then used a PPG Paints solid color stain to give the front porch a new look. We then stained the natural wood shutters to match.
In the back of the home is a small landing with steps. The stain that was on their was a deck correction product that was peeling off in sheets. We removed the deck boards and replaced the decking with Trex to match the front porch. We then sanded down and removed the remaining failed stain on the railings and stained them to match the front.
The fence around the entire property had a poor quality stain that was deteriorating quickly. We cleaned the fence to remove a lot of old stain, algae, and dirt. Once cleaned, we replaced a few pickets and stained the entire fence to match the new color of the decks.
This was a great outdoor makeover and a true deck and fence restoration.
Service Used in Project
Photo Gallery